Michel Foucault has a very striking phrase: 'Where there is power, there is resistance. Lila Abu-Lughod rephrases this sentence: 'Where there is resistance, there is power'. Power and resistance – are these two phenomena not seen in their highest and most direct manifestation and implementation in a war? Indeed. Nonetheless, this way of seeing depends on the media machinery – on what news, images or footages go into the coverage and how they disseminate that coverage. To this, people from different parts of the world meander with responses and reactions. Artists outside Ukraine have responded with street art, memes, cartoons, and digital art since February 24, when Russia dragged a war on Ukraine.
This visual story is an attempt to capture the artists' response as an act of resistance to the war, which they have displayed on their social media accounts. By Shameema Binte Rahman
Where there is war, there is resistance.
What the visual media shows someone outside Ukraine: a war siren, clamour, frightened eyes, burning buildings, military tanks, snow-covered land – dull and desolate. It seems as if their lives have suddenly been turned upside down. It has become as real as the reality of Ukrainian poet Sherhy Zhadan's lines, "We will never see our corner store again/ We will never drink from that dry well again/ We will never see familiar faces again/We are refugees/ We'll run all night."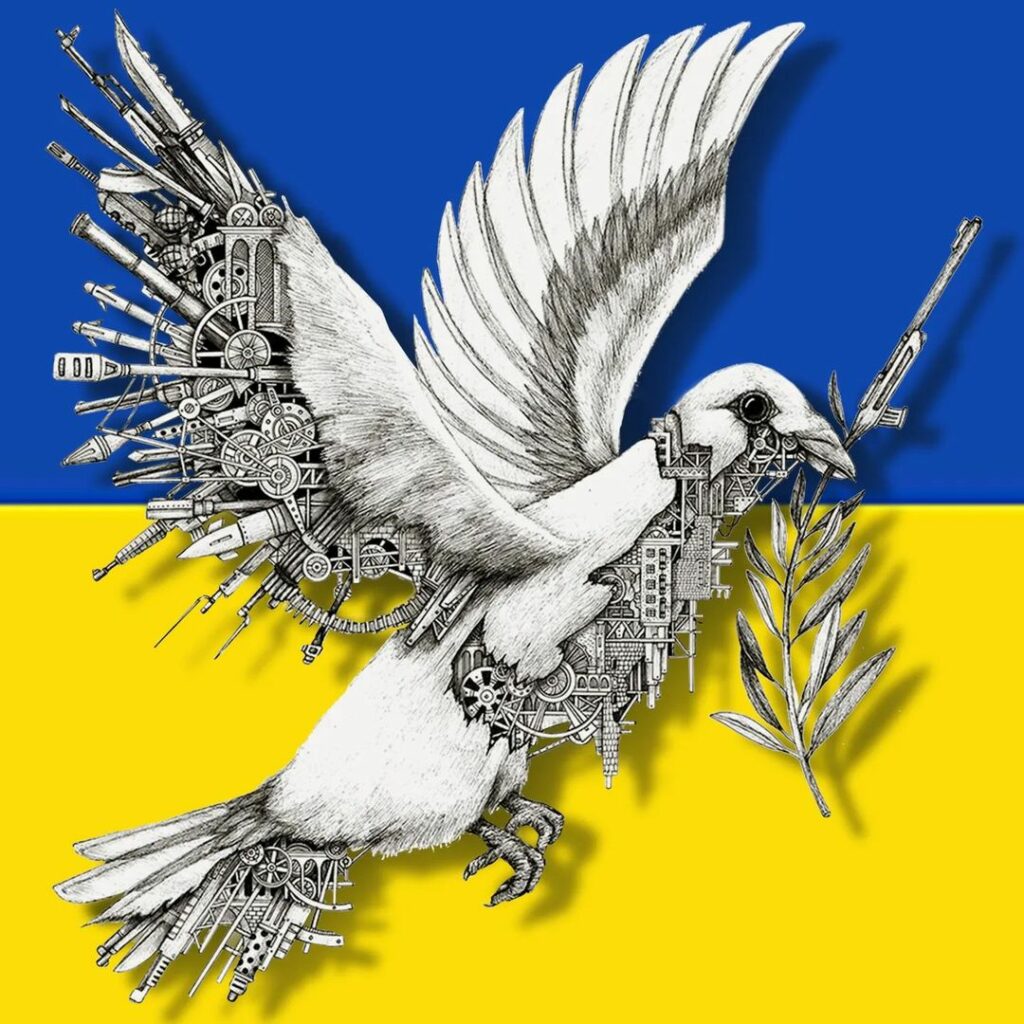 Since Russia instigated the war on February 24 this year, the suffering and resistance of Ukrainians have been captured on social media with many images. Artists outside Ukraine have responded with their strokes. They acted and continue to act with street art, graffiti, cartoons, memes, and digital art that they post on their social media. While Ukrainians are resisting this war in different forms such as fighting with military weapons, organising community through support, and creating digital posts to raise awareness, artists from outside Ukraine are making a collaborative approach with them.
However, an independent socialist magazine monthlyreview.com points out a data-driven fact that the Russian war on Ukraine is getting more attention in the Western media than other wars in various corners of the world. It says: "In total, in the week between Monday, February 21 and Sunday, February 27, Fox News, The New York Times, The Washington Post, CNN and MSNBC ran almost 1,300 separate stories on the Ukraine invasion, two stories on the Syria attack, one on Somalia, and none at all on the Saudi-led war on Yemen"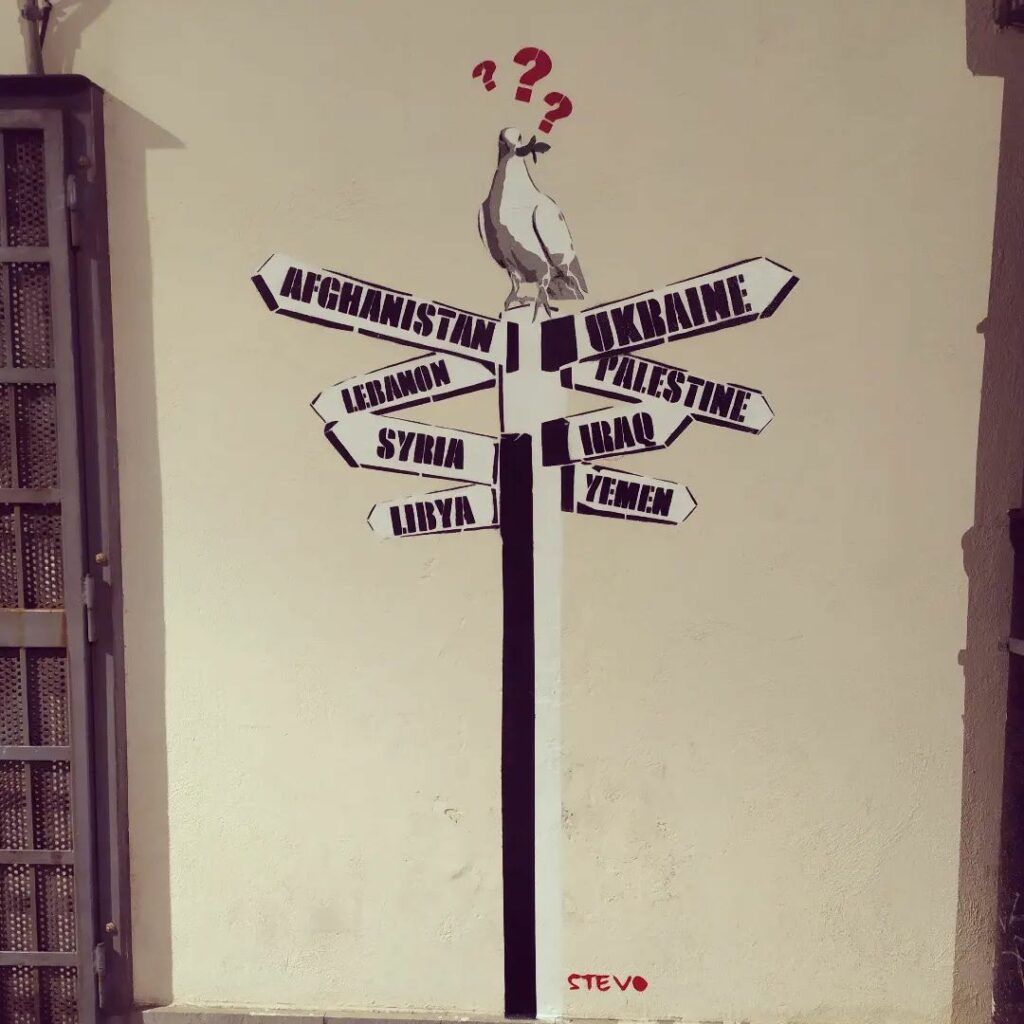 Artists, much of Europe, America, and the West in general, responded with words and colours and surfaced as the conjunction of what their minds spoke. British street artist My Dog Sighs created a mural of a tearful eye in blue and yellow on the wall of Cardiff, Wales. He posted a digital copy of this street art on his Facebook account on March 4 with the words, '. . . I wanted to do what I know best, (through paint) to highlight my sadness and anger over the Ukrainian invasion by Russia. . .The tear speaks for itself. A horrid horrid situation'.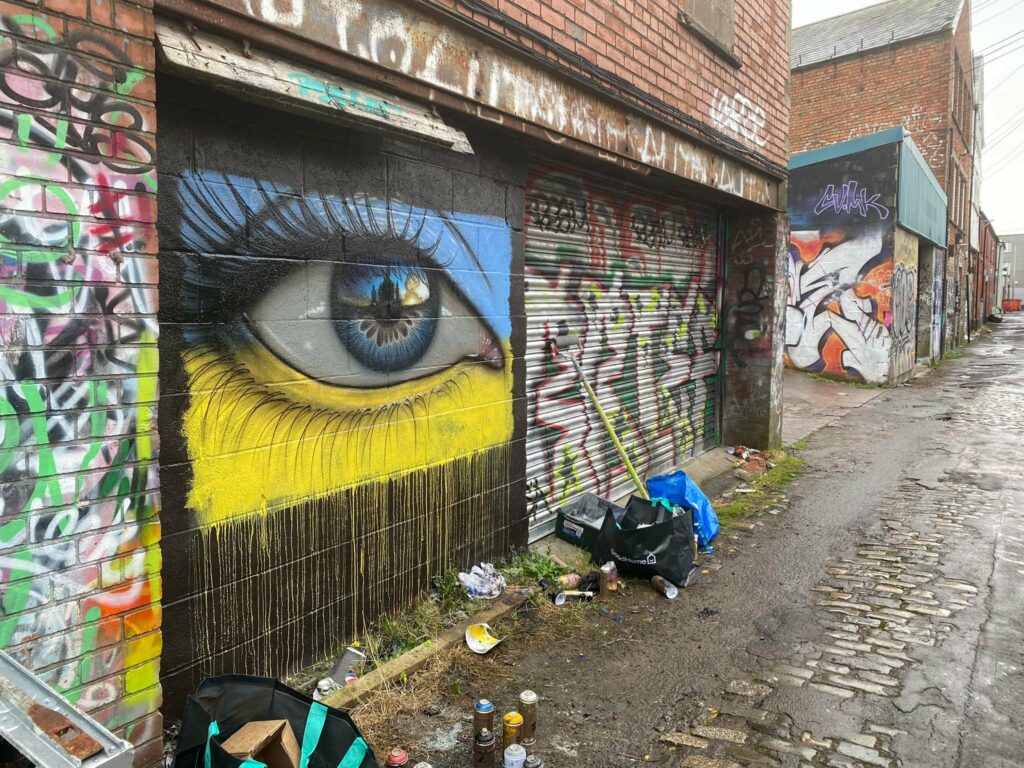 Such outpouring of support for Ukrainians unfurled with the sign of the bird of peace, the Ukrainian national flower – the sunflower, and the colours of the national flag – blue and yellow. With the beat, the role of the West in the war was reflected in cartoons with a touch of sarcasm and mockery. Political cartoonist Macleod Cartoons draws two characters – a fearful Ukrainian soldier and a pot-bellied, barely hairy Westerner. The Westerner tells the Ukrainian soldier in bright colours, "Do not worry, we are standing right behind you." But with the dark text, the same Westerner speaks the unspoken words: 'And we're gonna do precisely nothing'.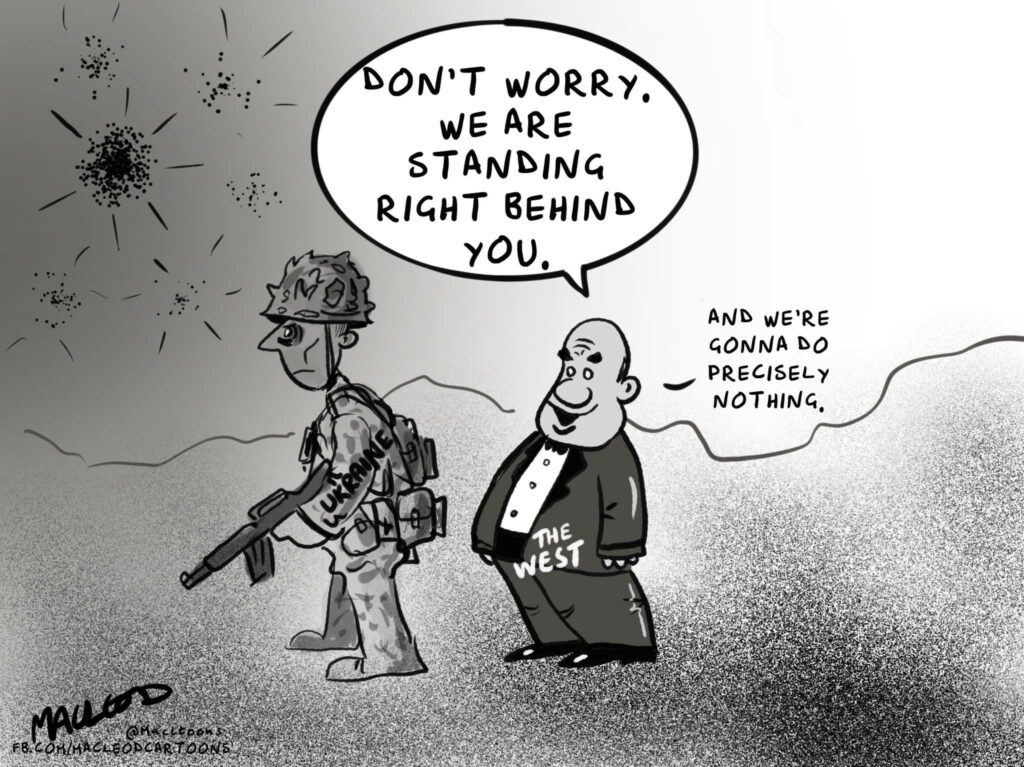 The face of Russian President Vladimir Putin is a common figure, sometimes together with Adolf Hitler, as on the walls in Poland and the Czech Republic. The protest of the Russian journalist on live television news against Russian propaganda turned into a voice against the propaganda of the Western media, including its content.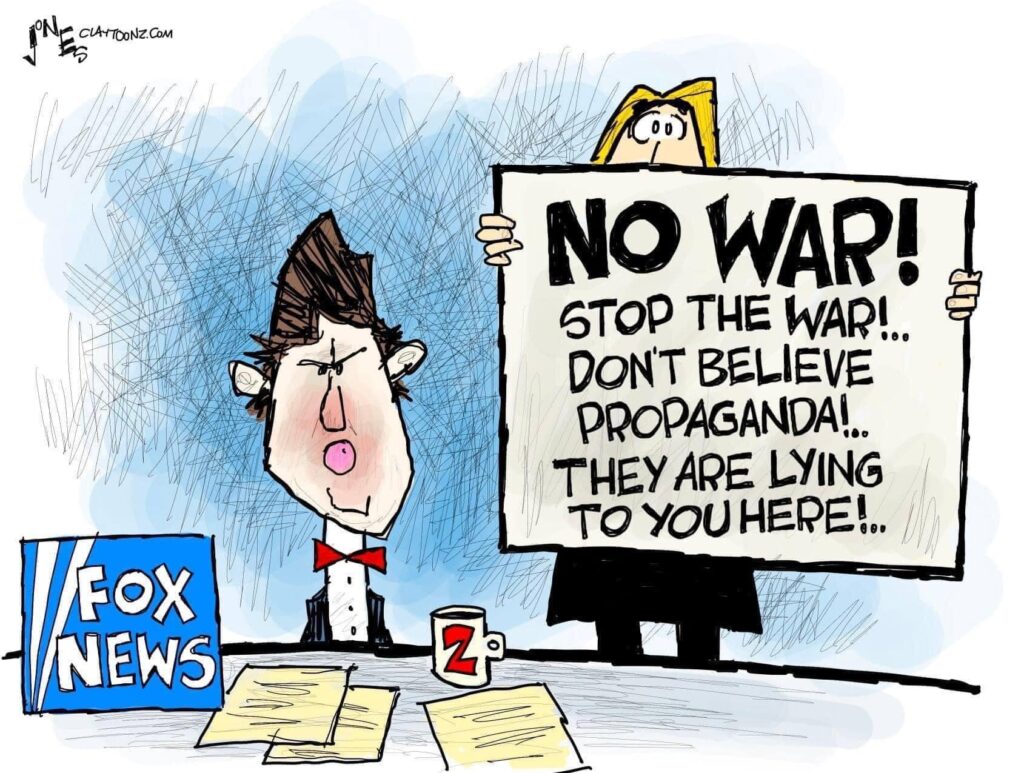 The first meme that attained a lot of attention on social media on the very first day of the war came from the Twitter handle called Ukraine and was uploaded on the morning of 7.18, about two hours after Russian President Vladimir Putin declared the military operation in Ukraine. The image shows two authoritarian figures from two eras: Adolf Hitler and Vladimir Putin and was titled "This is not a 'meme'/ But our and your reality right now."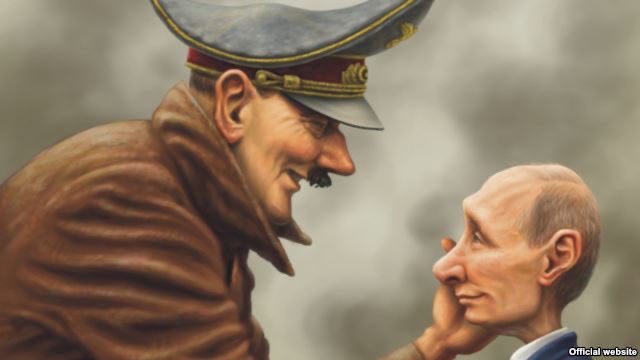 Some artists depicted the war before it really cropped up on the ground. Digital artist beeple_crap created the image 'War' on his Instagram handle on February 22, showing a war environment with U.S. President Joe Biden holding a weapon of war but keeping it lowered and looking into the broad, cold face of Putin.
The war is growing and 54 days have already passed. Several negotiation talks have taken place to end the war, but it continues. Artists are also keeping their strokes on against the war: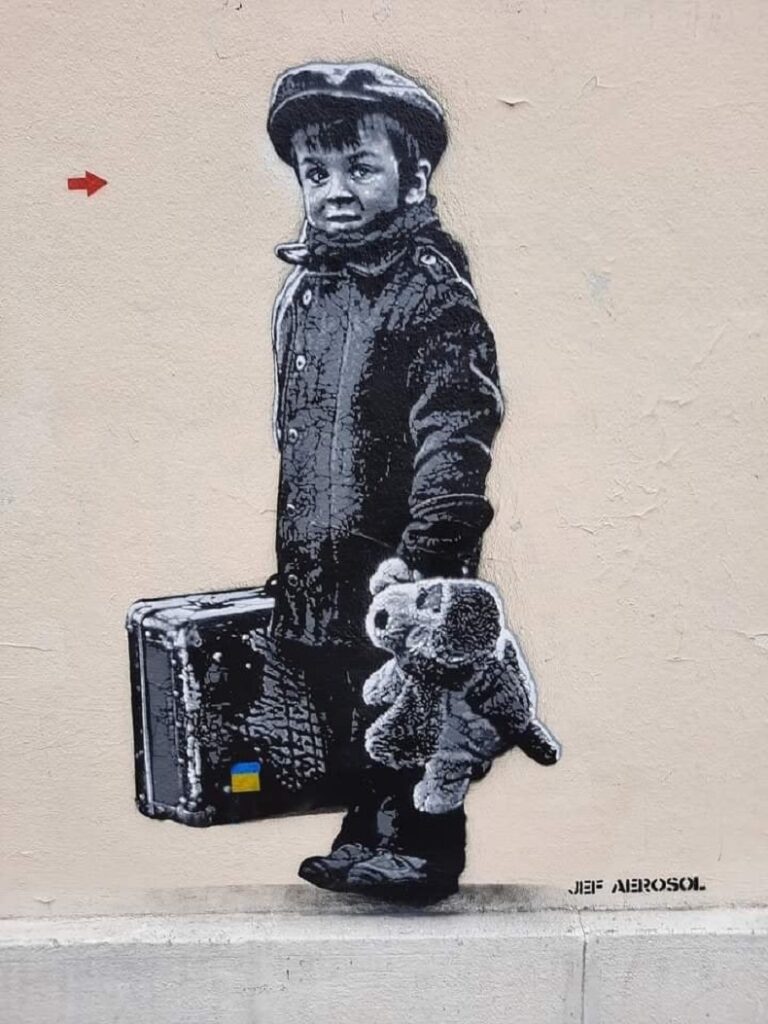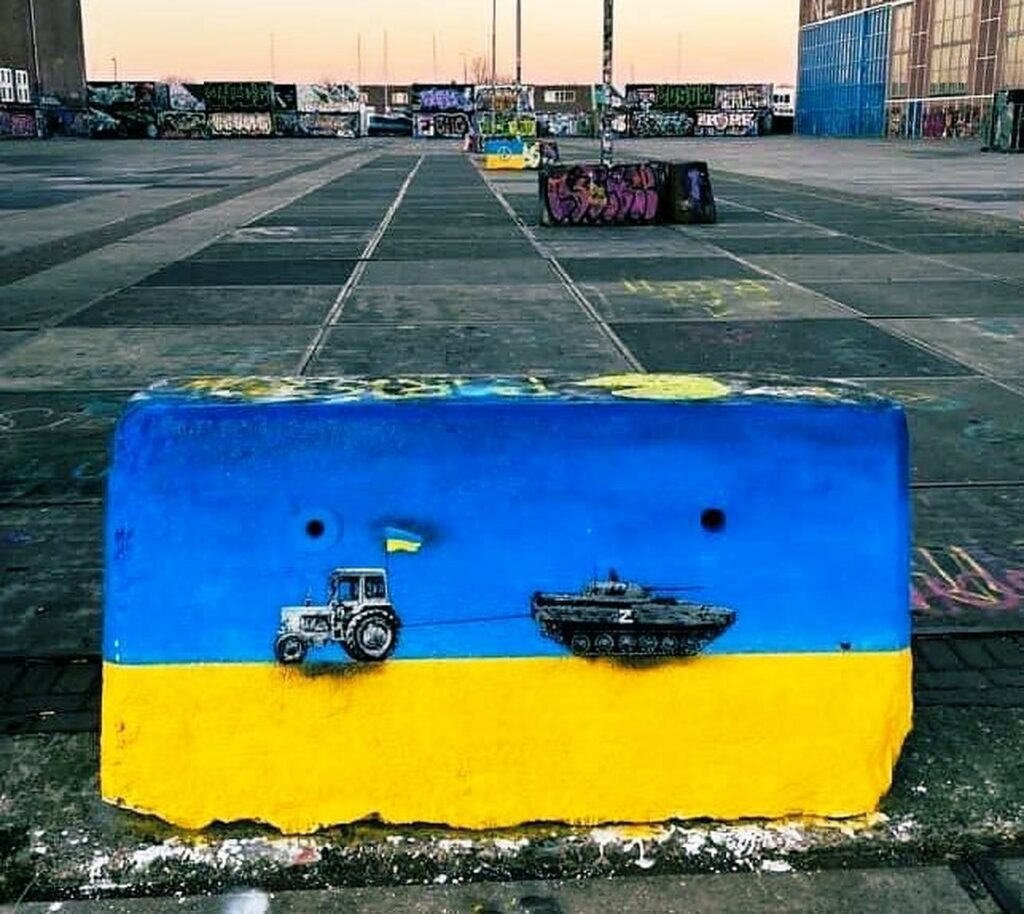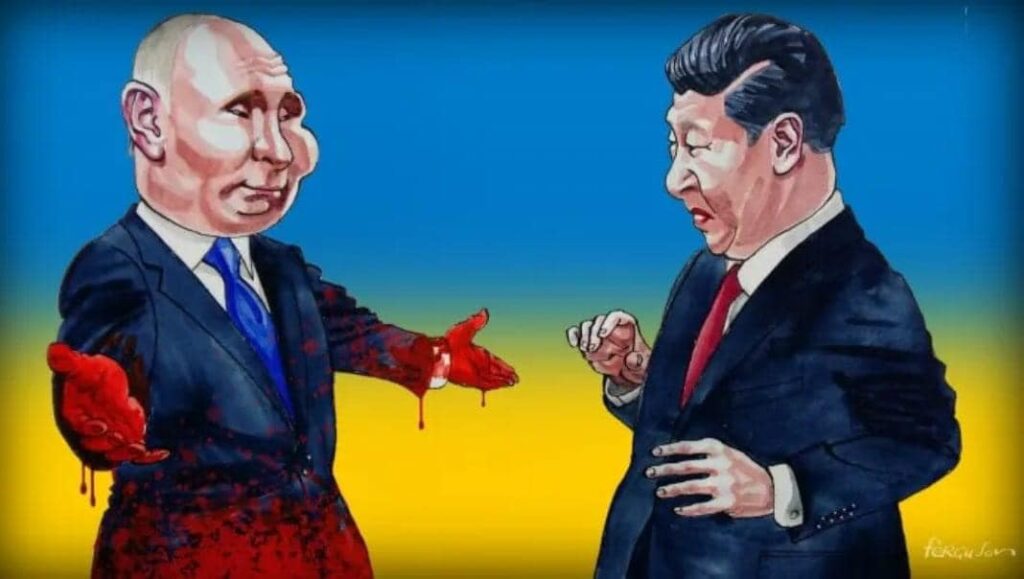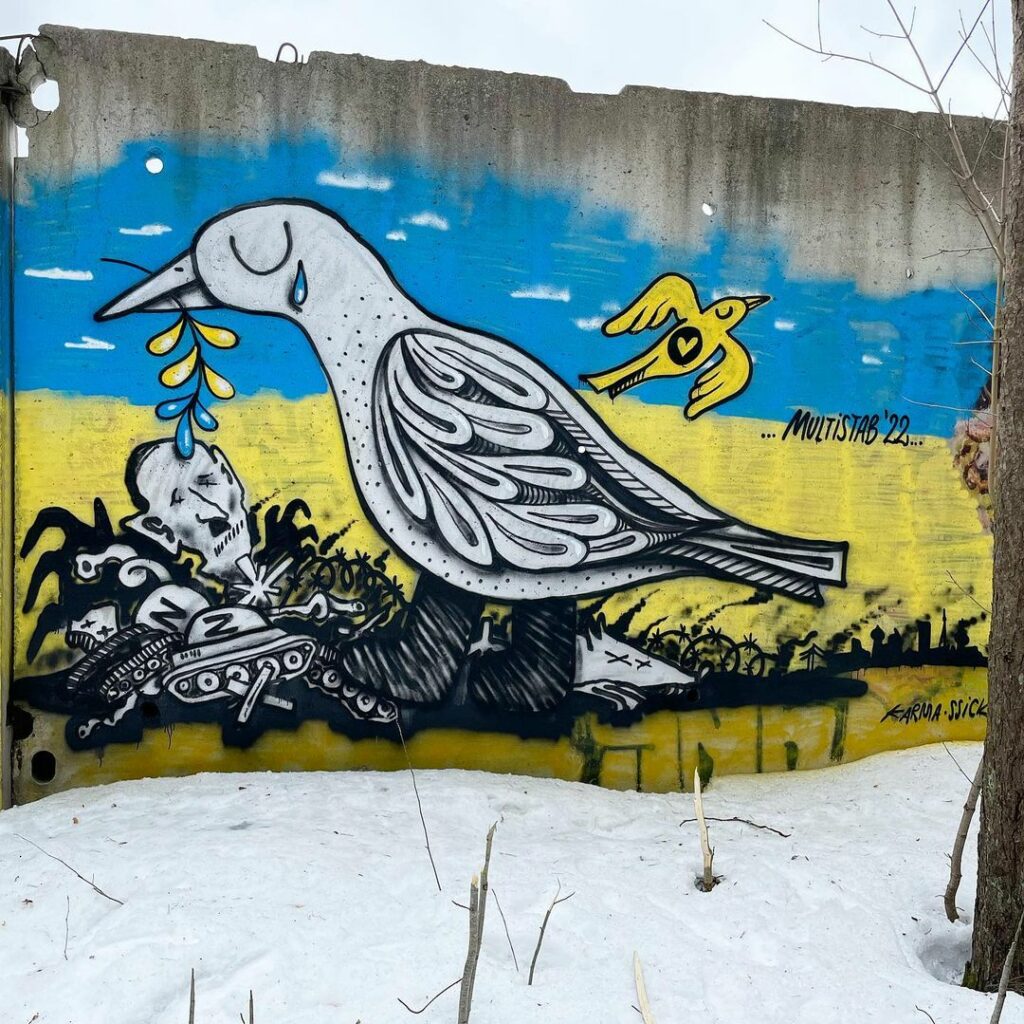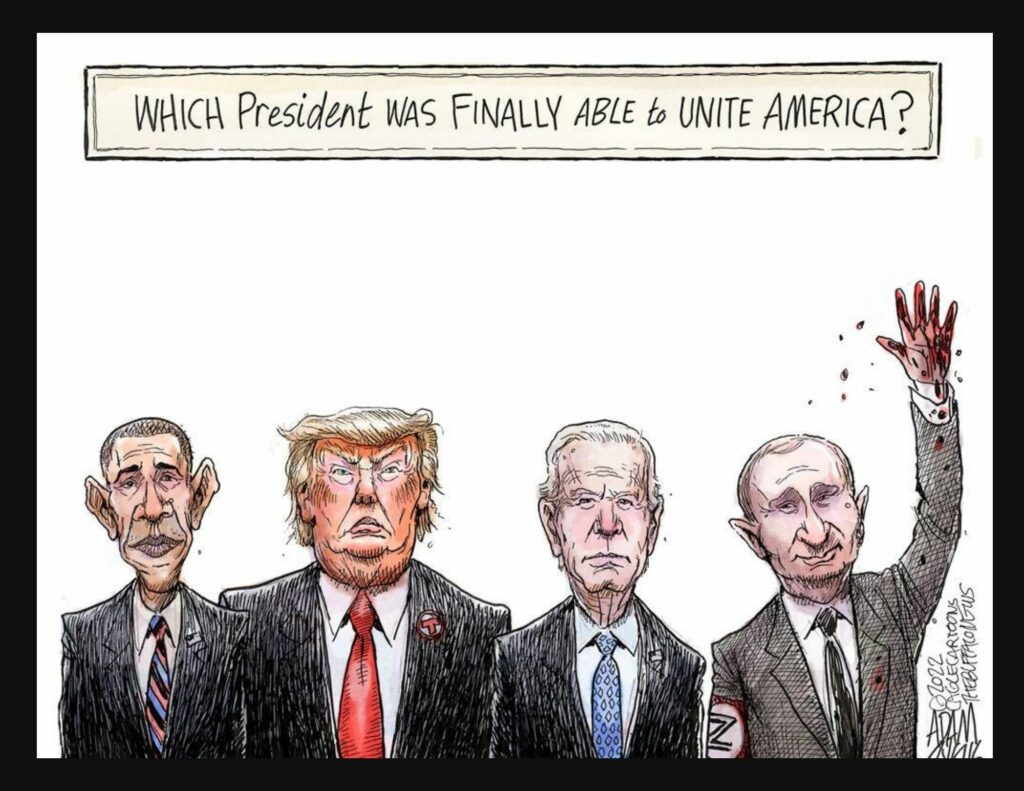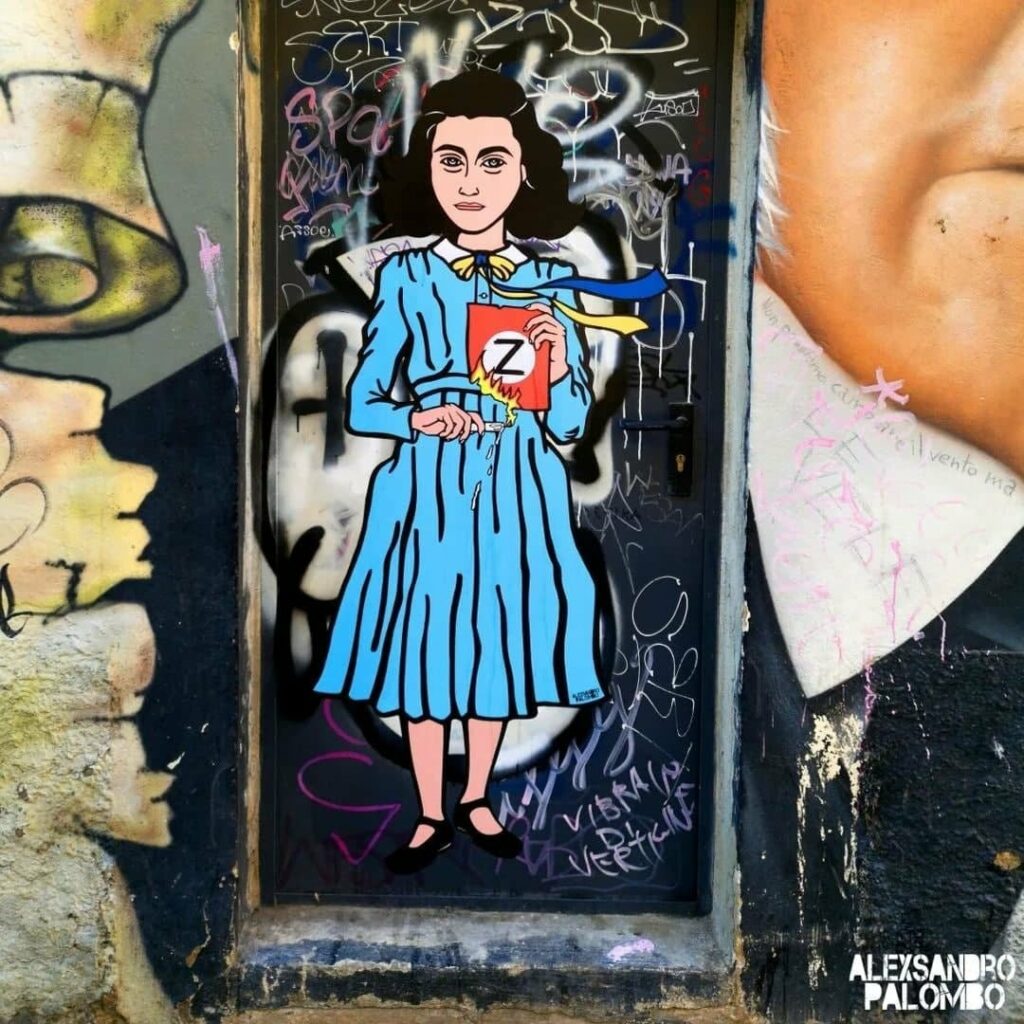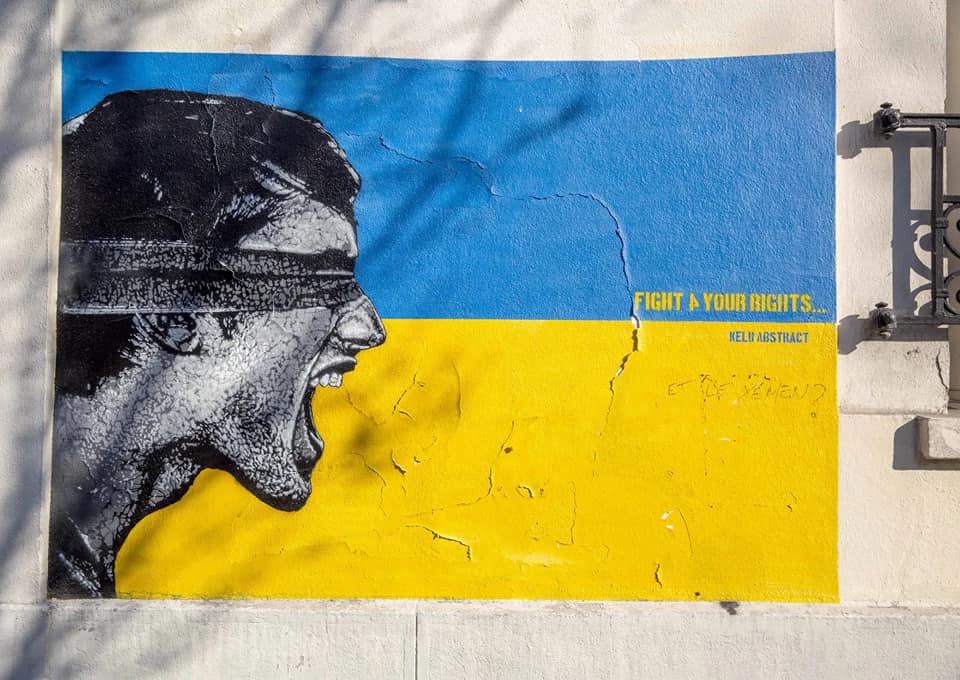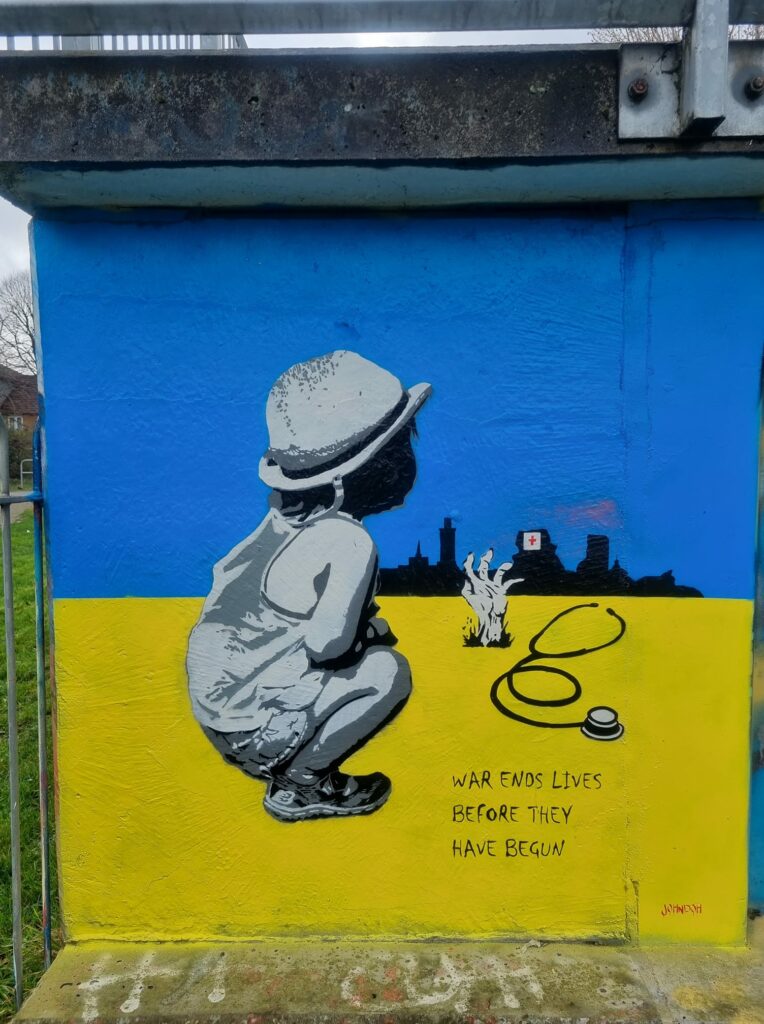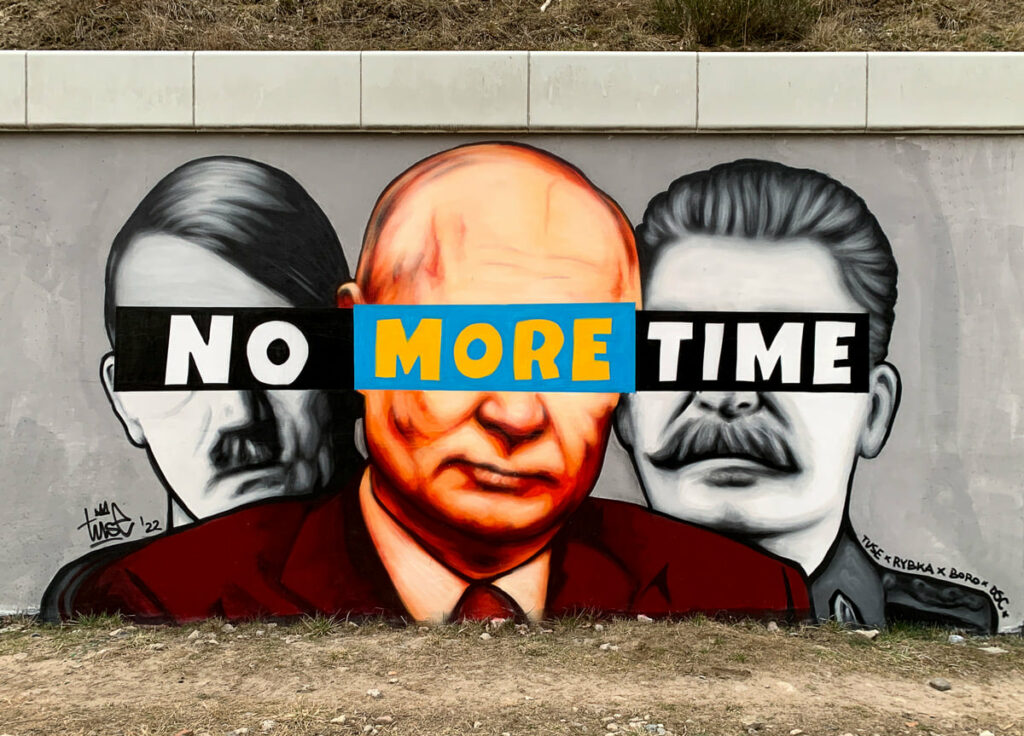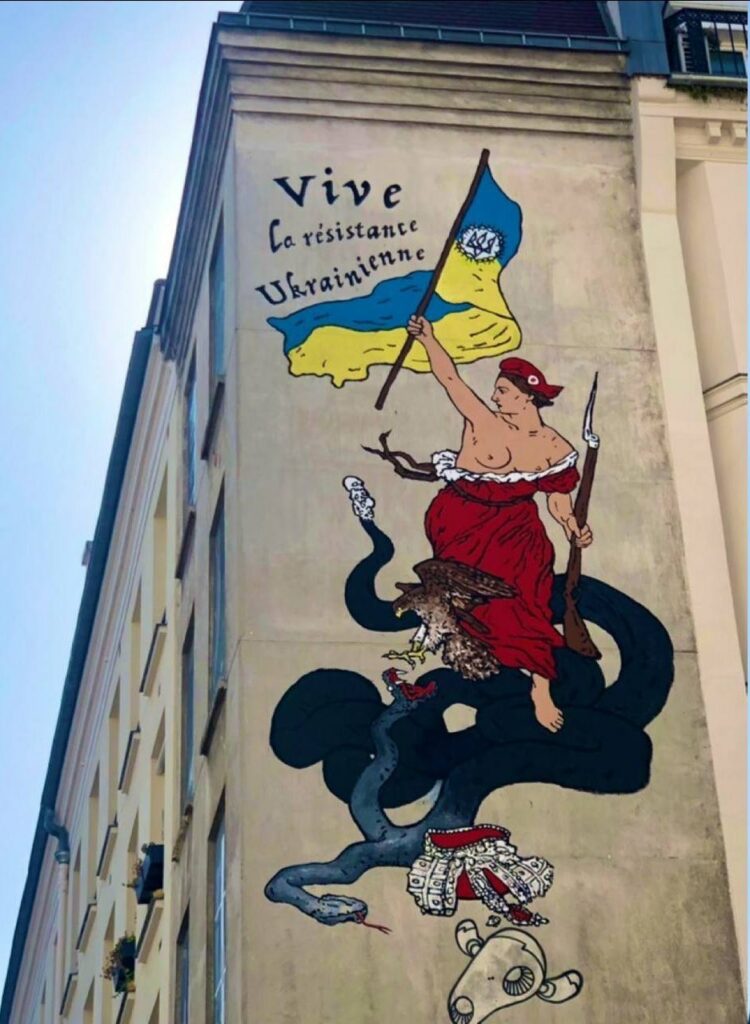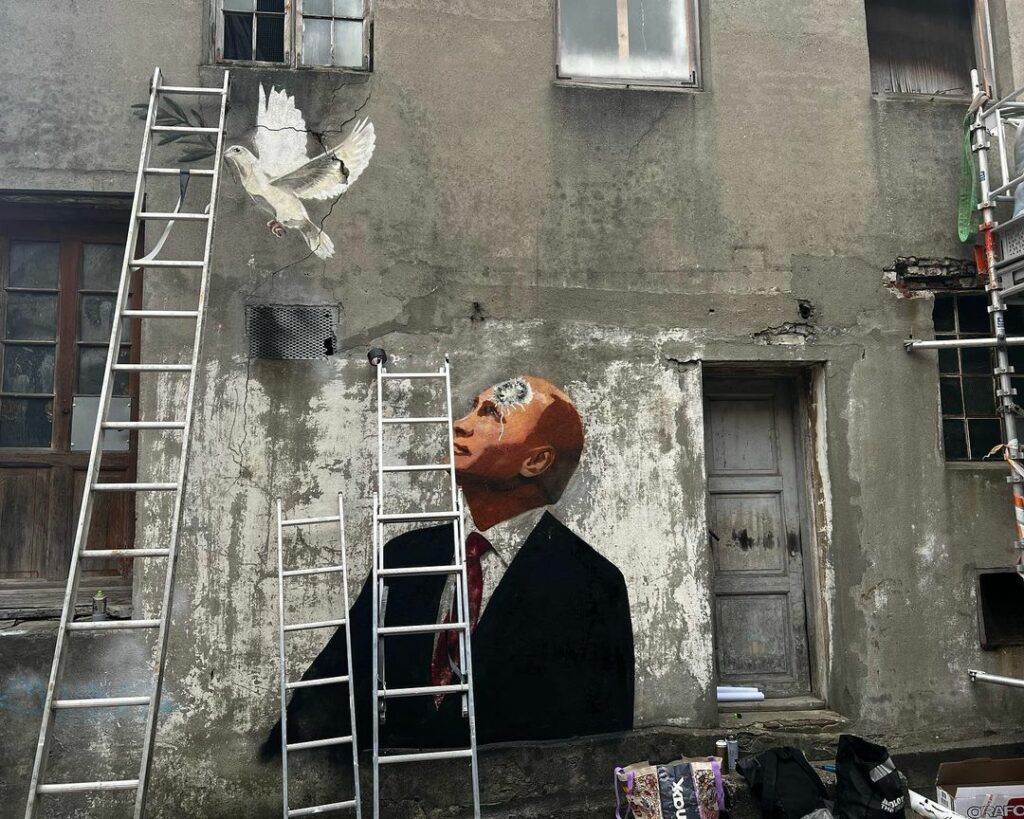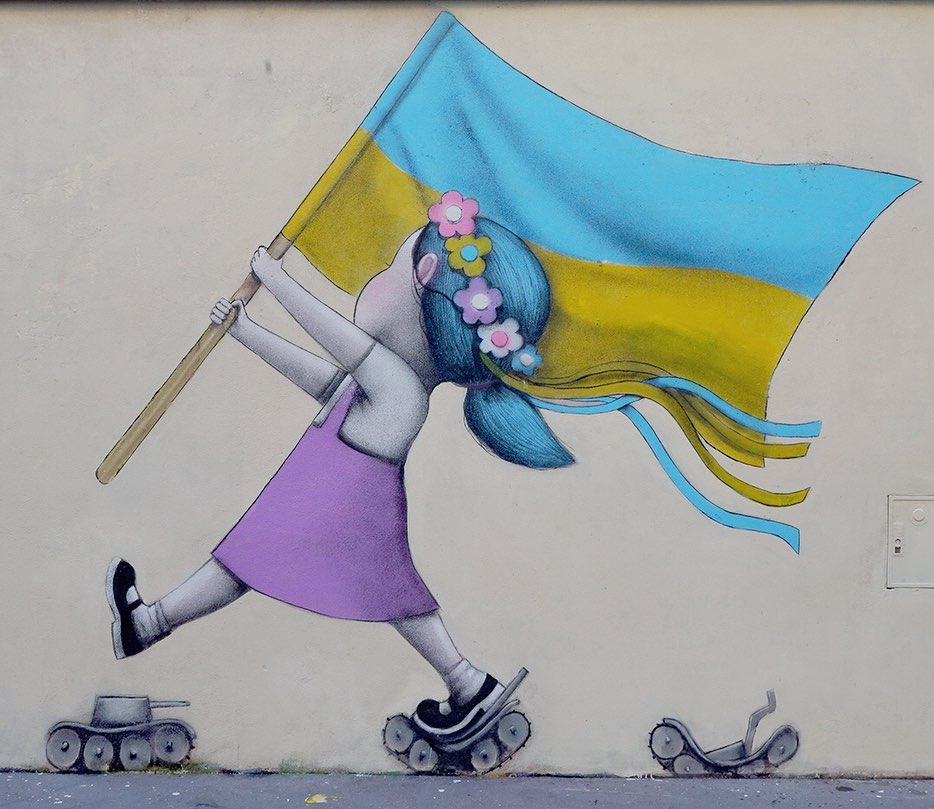 Cover Image: 'End All Wars' by the Palestinian-Lebanese street artist Salim Assi and painted in Copenhagen, Denmark. Source: streetartutopia.com
Text sources:
Abu-Lughod, Lila. "The Romance of Resistance. Tracing transformations of Power through Bedouin Women". American Ethnologist, vol. 17, no 1, February 1990, pp. 41-55.
Foucault, Mitchel. The History of Sexuality. Vol. 1: An Introduction. Random House. 1978.
MacLeod, Alan. "It's different, they're White: Media ignore conflicts around the World to focus on Ukraine". Monthly Review. March 4 2022. https://mronline.org/2022/03/04/its-different-theyre-white/